The neonatal intensive care unit in Makassed hospital in East Jerusalem. Photograph: Quique Kierszenbaum
At first glance, nothing appeared out of place at the children's intensive care unit. Nine beds were filled with nine tiny newborn babies, all with tubes attached to their wiry bodies. Monitors emitted the sounds of steady electronic blips. Nurses walked from bedside to bedside. A tired-looking paediatrician filled out paperwork.
Yet something was missing: there were no parents.
Some had been sent home to rest, or might be anxiously drinking coffee in the cafeteria downstairs. But for two babies at this Palestinian hospital in Jerusalem, their mothers were trapped an hour and a half away behind an Israeli-enforced blockade in Gaza. Both infants would later die, one without seeing her mother again.
Critically ill Palestinian infants taken from impoverished and war-battered Gaza to the better equipped Makassed hospital are suffering and dying alone.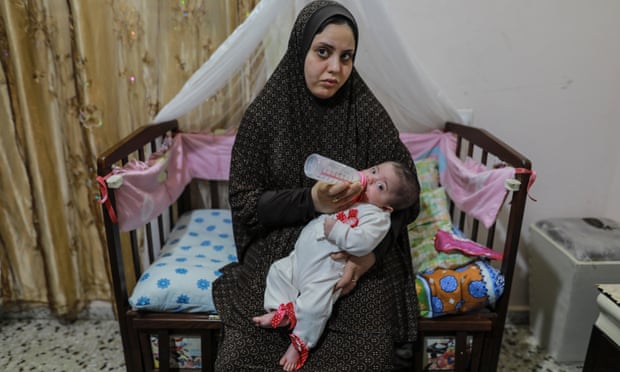 Hiba Swailam, 24, carrying her five-month-old baby in Beit Lahia. Photograph: Wissam Nassar/The Guardian
Israel allows temporary exit from Gaza for medical reasons in some cases, but not all. At the same time, it prevents or seriously delays many parents of patients from leaving, and others never apply in the first place, fearing that extensive security checks for adults will hold up their child's exit permit and lose vital time.
Since the beginning of last year, 56 babies from Gaza were separated from their mothers and fathers, six of whom perished without a parent present, according to the hospital.
In one case, a 24-year-old mother from Gaza was permitted to travel to Jerusalem to give birth to gravely ill triplets two months early. Two weighed less than a bag of sugar.
But Hiba Swailam's permit expired and she had to return to Gaza. She was not there when her first child died at nine days old, or two weeks later when her second baby also died. She was informed by phone.