Peter Dale Scott is considered the father of "Deep Politics" — the study of hidden permanent institutions and interests whose influence on the political realm transcends the elected, appointed, and career officials who come and go.
A professor of English at Berkeley and a former Canadian diplomat, he is the author of several critically acclaimed books on the pivotal events of our country's recent past, including American War Machine (2010) and The American Deep State (2018), which are relevant to the story below.
For two years President Donald Trump and Fox News have been attacking the "deep state" in Washington, usually referring to the intelligence agencies, like FBI and CIA, who have had Trump under investigation. But my notion of the deep state also includes private sources of power, outside government — but able to influence it illicitly — such as the Russian private Bank Alfa.
The bank's dubious clout in Washington has included protection from senior Republicans like Dick Cheney (former CEO of the multinational oil field services giant Halliburton).
Bank Alfa was the creation of three Russian oligarchs: Mikhail Fridman, Pyotr Aven, and German Khan. During the 2016 campaign, it drew the attention of the media, as in a story by Eric Lichtblau and Steven Lee Myers, "Investigating Donald Trump, FBI Sees No Clear Link to Russia," New York Times, October 31, 2016.
In classified sessions in August and September, intelligence officials also briefed congressional leaders on the possibility of financial ties between Russians and people connected to Mr. Trump. They focused particular attention on what cyber experts said appeared to be a mysterious computer back channel between the Trump Organization and the Alfa Bank, which is one of Russia's biggest banks and whose owners have longstanding ties to Mr. Putin.
FBI officials spent weeks examining computer data showing an odd stream of activity to a Trump Organization server and Alfa Bank. Computer logs obtained by The New York Times show that two servers at Alfa Bank sent more than 2,700 "look-up" messages — a first step for one system's computers to talk to another — to a Trump-connected server beginning in the spring. But the FBI ultimately concluded that there could be an innocuous explanation, like a marketing email or spam, for the computer contacts.
A more detailed account in the New Yorker — "Was There a Connection Between a Russian Bank and the Trump Campaign?," by Dexter Filkins — gives additional reasons for suspecting that the Alfa-Trump domain link was important and highly sensitive. Bank Alfa was also discussed in the Steele Dossier.
When the Mueller report was released, one of my top concerns was to see how it handled this Bank Alfa story. But the Times story about the computer back channel is not mentioned in the Mueller report at all.
Alfa Bank itself is in the Mueller report but in an account based only upon the testimony of one of the founding oligarchs, Pyotr Aven — that makes Aven and Alfa look outside any possible conspiracy, not inside.
German Khan (#3 in the Alfa Bank) is not mentioned. His son-in-law Alex van der Zwaan is mentioned, but only in a passive role:
Gates suspected that Kilimnik was a "spy," a view that he shared with Manafort, Hawker, and Alexander van der Zwaan, 869 an attorney who had worked with DMI [Davis Manafort Inc.] on a report for the Ukrainian Ministry of Foreign Affairs. [Van der Zwaan pleaded guilty in the U.S. District Court for the District of Columbia to making false statements to the Special Counsel's Office. Plea Agreement, United States v. Alex van der Zwaan, 1:18-cr-31 (D.D.C. Feb. 20, 2018), Doc. 8.]
The fact that Alex is the son-in-law of German Khan, #3 in the Alfa Bank, is not noted. Nor is there any clarification of his false statements mentioned above.
But the media reported that van der Zwaan was the intermediary between Paul Manafort's former deputy Rick Gates and an individual later identified only as 'Person A'" (probably Konstantin Kilimnik).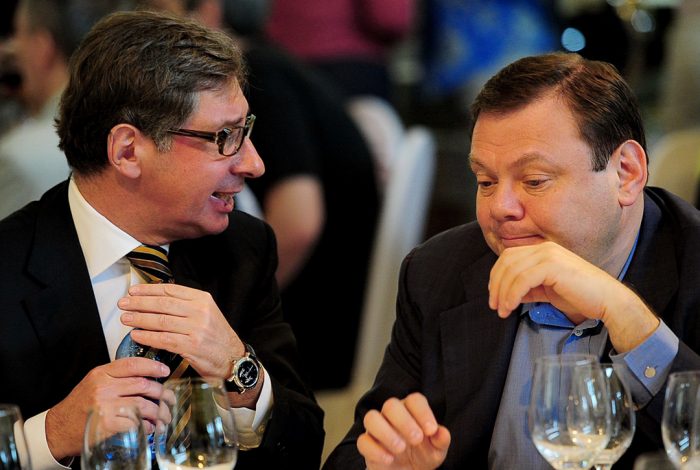 ---
Courtesy of
Who.What.Why
Source:
https://whowhatwhy.org/2019/04/29/the-mueller-report-alfa-bank-and-the-deep-state/
Publication date of original article: 29/04/2019
URL of this page :
http://www.tlaxcala-int.org/article.asp?reference=26176