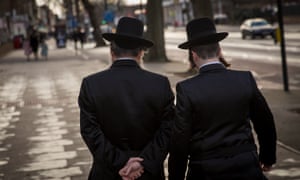 Two men in black hats, black coats and peyot walk along a pavement in Stamford Hill, London
Ultra-orthodox Jews are to make up the majority of British Jews before the end of this century, as high birth and low death rates drive population growth, according to a new study.
The growth among the strictly orthodox population is fuelled by a birth rate of seven children per woman, compared with 1.98 per mainstream Jewish woman. The overall birth rate in the UK is 1.93; for Christians it is 1.53 and for Muslims 3.25.
The research, by Daniel Staetsky and Jonathan Boyd and published this week by the Institute for Jewish Policy Research (JPR), is claimed to be the first demographic overview of the UK's ultra-orthodox community. The authors of
Strictly Orthodox Rising
show that the "British Jewish population is on the verge of significant demographic change".
"Some express unease about the extent to which [ultra-orthodox Jews] are integrated into British society, and apprehension about a potentially unwelcome change in the religious, educational, economic and occupational profile within British Jewry," the study says.
Others welcome the changes, focusing on "the renewed population growth and vigorous Jewish religious life that the expansion of the strictly orthodox population seems to have generated".
Examining data from the 2011 census and community surveys, the report says the strictly orthodox community is growing at 4.8% a year, while the number of secular and moderately religious Jews is declining by 0.3%.
Although ultra-orthodox Jews still constitute a minority of Jews, at 16% according to the 2011 census, the high birth rate means that their children will reach 50% of all Jewish children by 2031.
"The strictly orthodox population [is] significantly younger and growing at a faster rate than the non-strictly orthodox," the report says. It adds: "Strictly orthodox Jews are expected to constitute a majority of the British Jewish population long before the 21st century is over."
The overall UK Jewish population declined in the second half of the last century. According to the 2011 census, 271,259 people identified themselves as Jewish by religion in the UK – 0.43% of the total population. The vast majority live in England, with fewer than 6,000 Jews in Scotland, and 335 in Northern Ireland.
The report suggests that ultra-orthodox Jews tend to live in close-knit communities, with the largest in Hackney and Barnet in London, and Bury and Salford in the north-west of England. It estimates the total strictly orthodox population in 2015 to be about 40,000.
Interlink Foundation, an orthodox charity, said the report underestimated the numbers. It told the Jewish Chronicle that a more valid estimate for strictly orthodox Jews was 58,500, and the point at which they would constitute the majority of British Jewry would be sooner than the report suggested.