Alice Kohler shares photos and thoughts on her time in the Xingu river basin in the Brazilian Amazon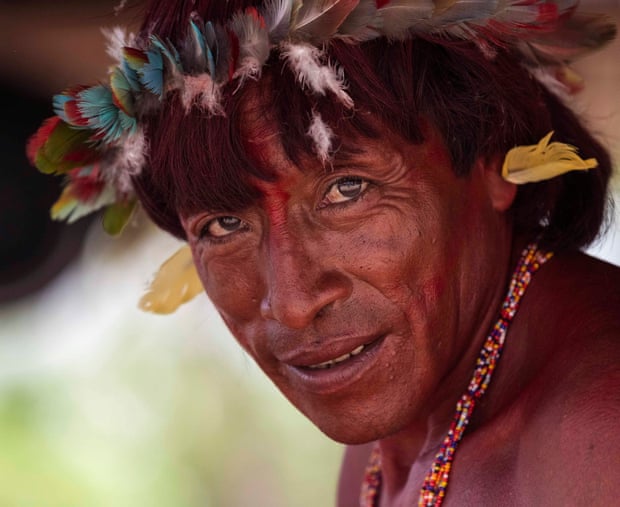 An Araweté man living in the Xingu river basin in Para, Brazil. Photograph: Alice Kohler
Alice Kohler is a Brazilian photographer who has visited over 20 countries during her career. In Brazil in particular she has travelled into some of the remotest parts of the Amazon basin and spent time with many of the country's indigenous peoples, including the Araweté, Asurini, Guarani, Kamaiura, Karajá, Kayapo, Kuikuro, Parakanã, Pareci, Xavante and Yawalapiti.
An exhibition of Kohler's photographs of the Araweté opens in Cusco in neighbouring Peru today, held at a newly-opened Amazon-themed gallery run by Peruvian company Xapiri. Kohler and Xapiri are holding the exhibition out of concern for the impacts on the Araweté and many others of the Belo Monte dam complex - arguably the world's most well-known hydroelectric power project because of the opposition it has generated - as well as plans by a Canadian-headquartered company, Belo Sun Mining, to develop what would reportedly be Brazil's biggest open sky gold mine.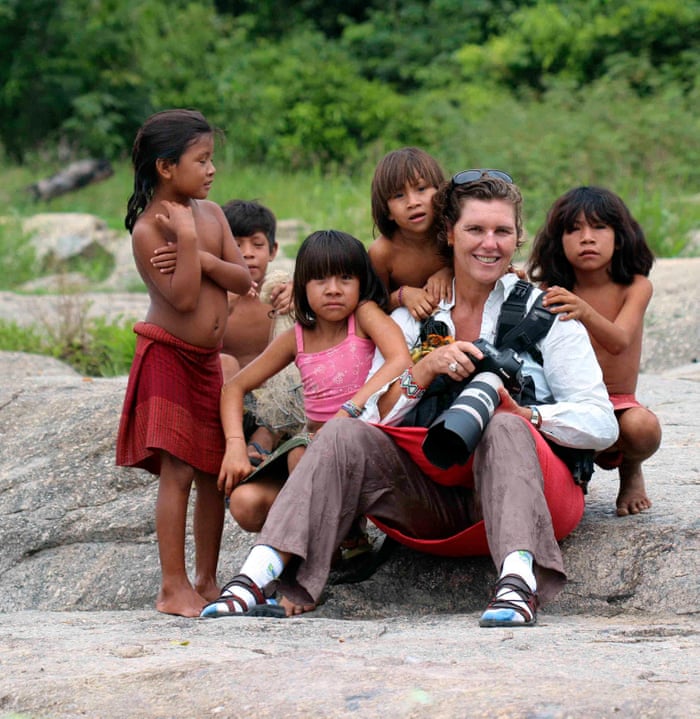 Alice Kohler first visited the Araweté in 2009. Photograph: Alice Kohler
The Araweté, living in the Xingu basin in the state of Pará, established sustained "contact" in the late 1970s after their land was opened up by the so-called TransAmazon Highway - part of the BR-230 - partly funded by the World Bank and Inter-American Development Bank. This led immediately to what Brazilian anthropologist Eduardo Viveiros de Castro called, in an ethnography published in 1986, "demographic catastrophe", with one third of them dying. Today, population exceeds that of pre-"contact" levels, but Kohler - and others - argue the Araweté are now undergoing "ethnocide."
Here Kohler shares 10 of her photos: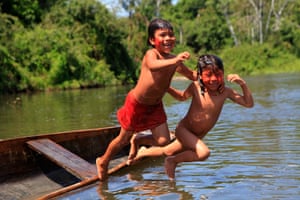 Children playing in the Ipixuna river at an Araweté village called Juruanty. Photograph: Alice Kohler
1 "When we arrive in the village, the first thing we always see is the children playing in the river," Kohler says. "They play all day, [while the adults] fish, go hunting, wash clothes and utensils, bathe, and visit the other villages, which number six in total. . . Everything [happens] in the river. . . The river is life! It is their road! And it is wonderful: warm, clean water, especially [here in Juruanty] as there is a curve on the Ipixuna river which means it is calmer than the Xingu."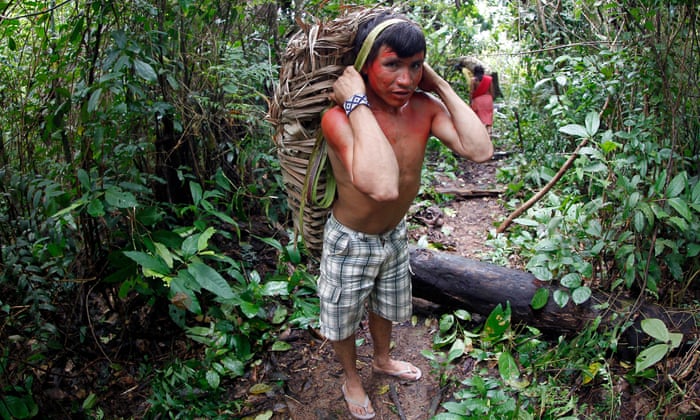 An Araweté man carrying a rucksack filled with corn. Photograph: Alice Kohler
2 This Araweté man is carrying corn back to his village in preparation for a party. Shorts and shirts are popular, Kohler says, because they protect against mosquito bites.
"The path links the village to a communal garden and a special place where they store the corn," she says. "This storage place is something I have only seen with the Araweté. Very special! They always walk to the garden as a group, sometimes only women, sometimes couples or whole families. In this case they were with the whole family preparing for the party. These rucksacks are common. They make them with ease and very quickly - normally the women. It is beautiful to see it."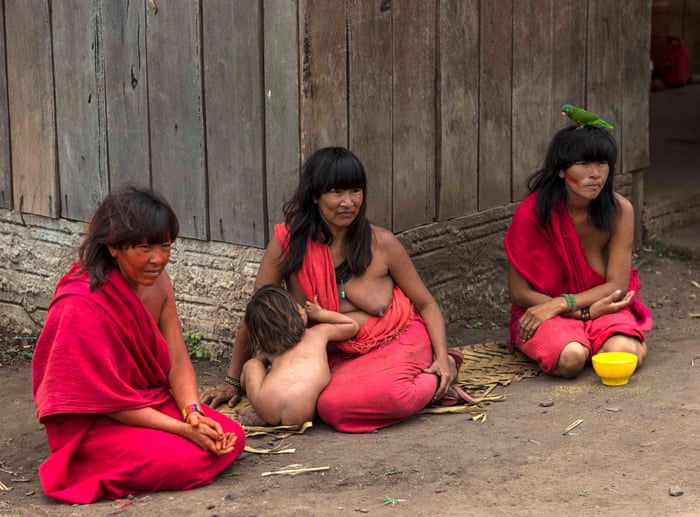 Three Araweté women and child. Photograph: Alice Kohler
3 Kohler says the Araweté make these clothes themselves, using cotton which they grow and weave and then achiote seeds for red dye. Achiote, she says, has numerous uses - not just for clothes, but as a cosmetic.
"They love to use it, all the time. It is good as a mosquito repellent, but they also use it just to dress up. For parties and rituals, extra achiote is used for appearance. The trees are plentiful around all the villages."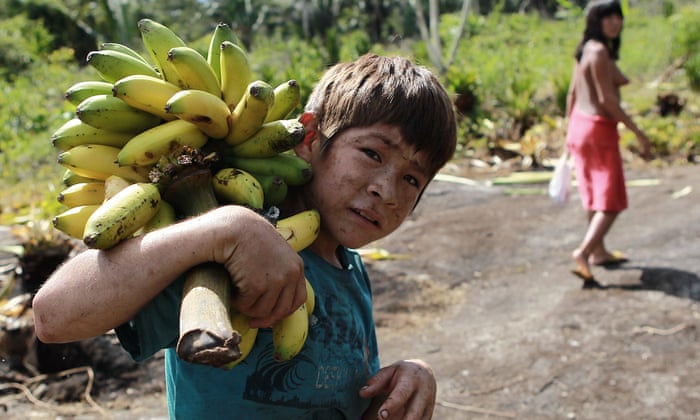 A young Araweté man carrying plantains. Photograph: Alice Kohler
4 Kohler has visited many Araweté gardens where they grow manioc, corn, cotton, sweet potatoes, achiote, plantains and pineapples, among other things, while out in the forest they collect acai, other fruits and honey. According to the anthropologist Viveiros de Castro, the Araweté can distinguish between 45 different types of honey.
"The most important food is manioc flour with pork or other meat from hunting," Kohler says. "In particular they love jabuti - tortoise - and they also eat lots of fish. And they brew a corn-fermented drink called cauim for their parties - it is fermented by the women chewing and spitting it into a pot!"
---
Courtesy of
The Guardian
Source:
https://www.theguardian.com/environment/andes-to-the-amazon/2017/mar/31/the-river-is-life-a-photographer-among-the-arawete-in-brazil
Publication date of original article: 31/03/2017
URL of this page :
http://www.tlaxcala-int.org/article.asp?reference=20298